Organization of guided walking and biking tours with the guests of the São Lourenço Estate.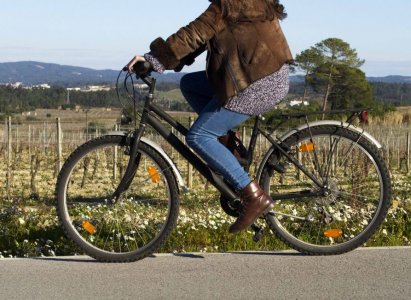 1. Guided bike tour in the Bairrada region.
The tour starts and ends at the São Lourenço Estate and is about 30km long.
The route is made of dirt roads and small paved roads, passing through vineyards and villages allowing you to enjoy the characteristic landscape of Bairrada.
The tour includes a visit to a winery to show the entire winemaking process and a small wine tasting.
From 59€ pp (8 pax), including guide, visit to the winery with wine tasting, reinforcement and activity insurance.
2. Guided hike in Buçaco.
Tugar transfers customers from their accommodation to the start of the activity in Mata do Buçaco.
The walk is done with a guide and shows the various points of interest in the forest. Explanations are given about the historical, cultural and natural heritage of this space. The walk has a duration of approximately 4 hours.
After the walk there will be a visit to a winery where the process of wine production is explained, ending with a small wine tasting and a snack of local products.
From 59€ pp (8 pax), including guide, lunch, reinforcement, equipment, bicycle and activity insurance.
3. Other activities
In addition to the above activities, Tugar is available to create other routes beginning at São Lourenço do Bairro and with various destinations such as the beaches, Mira and Tocha, Coimbra, Montemor-o-Velho or Figueira da Foz, as well as making the return transfers to the accommodation.
Tugar can also organize personalized activities and make bicycles available for rent, as long as it is contacted in advance and for a minimum and maximum number of people to be defined.
This is a partnership between the São Lourenço Estate and Tugar Travel Agency. For more information, contact: info@tugarbybike.com