Authentic experiences in the vineyards of the S. Lourenço Estate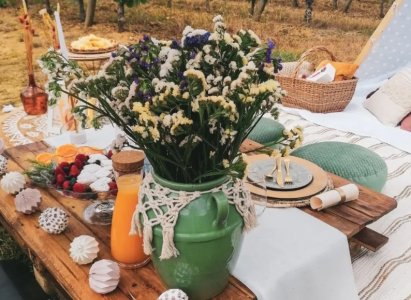 The whole quinta deserves to be highlighted. In its vineyard area you can enjoy unique and refined moments, sharing the rurality and glamour that are so characteristic of wine tourism.
Organized in a vineyard environment, but adopting a concept of refinement, the Premium Picnics are the new outdoor trend that tourists can add to their experience in Bairrada.
We propose a meal outdoors, in the middle of the vineyards of the Estate, where direct contact with the wine-growing reality is promoted. More than a towel spread on the floor, we intend to give a romantic, premium and glamorous touch to the experience, creating a relaxing and unique setting in the heart of Bairrada.
1. Elegant experience: premium picnic in the vineyard
2. Fresh Experience: Interpretive tour of the vineyard + premium picnic
3. Mature Experience
Touristic Experiences Details
Location: S. Lourenço Estate, São Lourenço do Bairro, Anadia
Duration: 2h00
Languages: Portuguese, Spanish, English and French
Hours: under previous request
Number of participants: minimum 2 people | maximum 6 people
Organization of the picnics: As Marias Gomes
For more information and/or picnic reservations, please contact "As Marias Gomes" directly through the social networks or email: info.asmariasgomes@gmail.com